Description:
-100% Brand new and high quality
-100% Natural quartz crystal rock
-Handmade Carved
-It is good gift for your friends,families

Specificatioin:
Type:Natural Mix Quartz Butterfly,Quartz Butterfly,Crystal Butterfly
Material: Yellow Tiger Eye Jasper,Blue Tiger Eye Jasper,Opalite,Pink Opalite,Golden Obsidian,Silver Obsidian,Labradorite,Red Gold Sand,Purple Fluorite,Yellow Fluorite,Sodalite
Color:rainbow,black,blue,yellow,green,orange
Net Weight:25g+
Size: 50*30*10mm
Description:
Quartz is a stone of change, a beneficial companion in transformation, giving strength and perseverance. It balances and protects the aura, raising awareness and spiritual energy. It is useful for strengthening intuition - promoting psychic abilities. Powerful in revealing the truth behind illusions, quartz dispels fear and insecurity and strengthens confidence in the self and trust in the universe. It stimulates the imagination, calms an overactive mind and fosters enthusiasm and new ideas.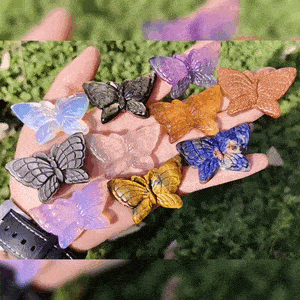 2" Natural Quartz Butterflies, a stunning and unique addition to any home decor or crystal collection. These exquisite crystal butterflies are carved from high-quality natural quartz, making them not only beautiful but also highly beneficial for crystal healing, Reiki healing, and energy work.
Each butterfly is meticulously carved by skilled artisans, highlighting the intricate details of the butterfly's wings and body. The natural quartz material is transparent with a soft white or milky appearance, allowing light to pass through and creating a mesmerizing effect when placed in direct sunlight or under a light source.
As a natural quartz crystal, these butterfly carvings carry powerful healing properties that can benefit the mind, body, and soul. Quartz crystals are known for their ability to enhance energy flow, remove blockages, and promote balance and harmony. They are also believed to amplify intention and manifesting abilities.
In addition to their healing properties, these crystal butterflies are also a stunning addition to any home decor. The delicate and intricate design of the butterfly is accentuated by the natural beauty of the quartz material, making it an eye-catching and unique piece to display in any room of the house. These butterflies can be placed on a bookshelf, desk, or any other surface as a decorative accent or used as part of a larger crystal display.
Whether used for healing purposes or as a decorative accent, these natural quartz butterflies are a must-have for any crystal enthusiast or butterfly lover. They come in a variety of sizes and can be purchased individually or as a set, making them a versatile and customizable addition to any collection.
Overall, the Natural Quartz Butterflies are an exceptional piece of crystal artwork that will be cherished for years to come. Their beauty, combined with their healing properties, makes them a perfect gift for anyone interested in crystal healing, Reiki healing, or energy work. These crystal butterflies are a stunning representation of the natural world and the transformative power of healing crystals