A crystal, a world, like your soul, shining your light.
Natural crystal rock mineral specimen box, the full set contains 25 different crystal minerals. Each crystal mineral has an individual glass container to protect your spell crystal chips from external energies. It is approximately 5.5cm tall and 3cm in diameter. A crystalline mineral specimen weighs approximately 0.06 lbs.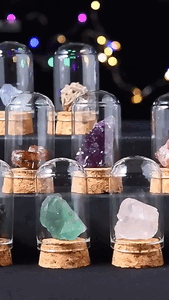 PREMIUM QUALITY - All crystal shards are 100% natural and unique. Mini crystals for spelling jars are carefully packaged in lovely gemstone bottles and individually labeled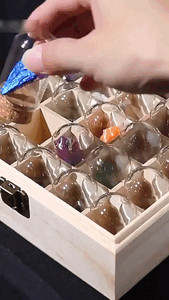 Each crystal is unique as it is a pure natural product. Each crystal is different in shape and texture. You can use the magnifying glass to take your eyes to observe different colorful worlds.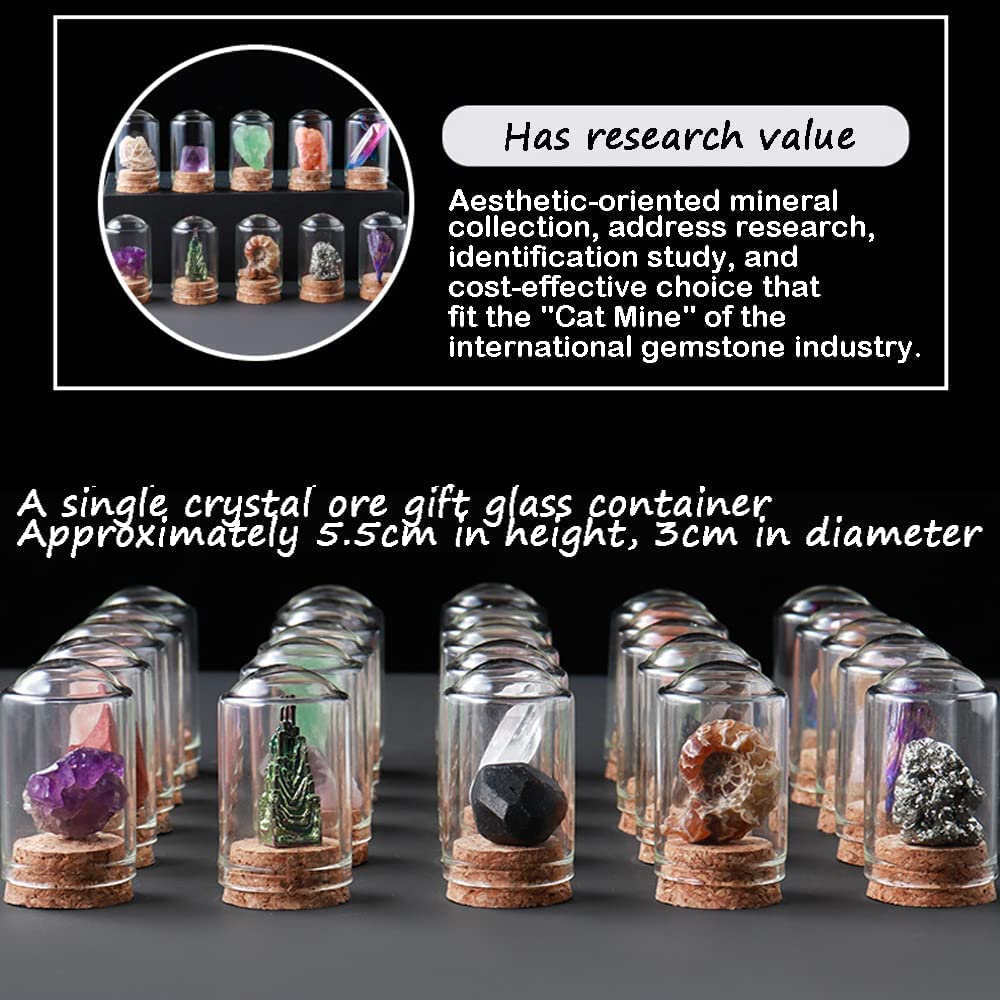 Perfect crystals for witchcraft crystal sets, crystal grids, chakra healing, witch decorations, or candle making. Make a unique gift for yourself or someone you love.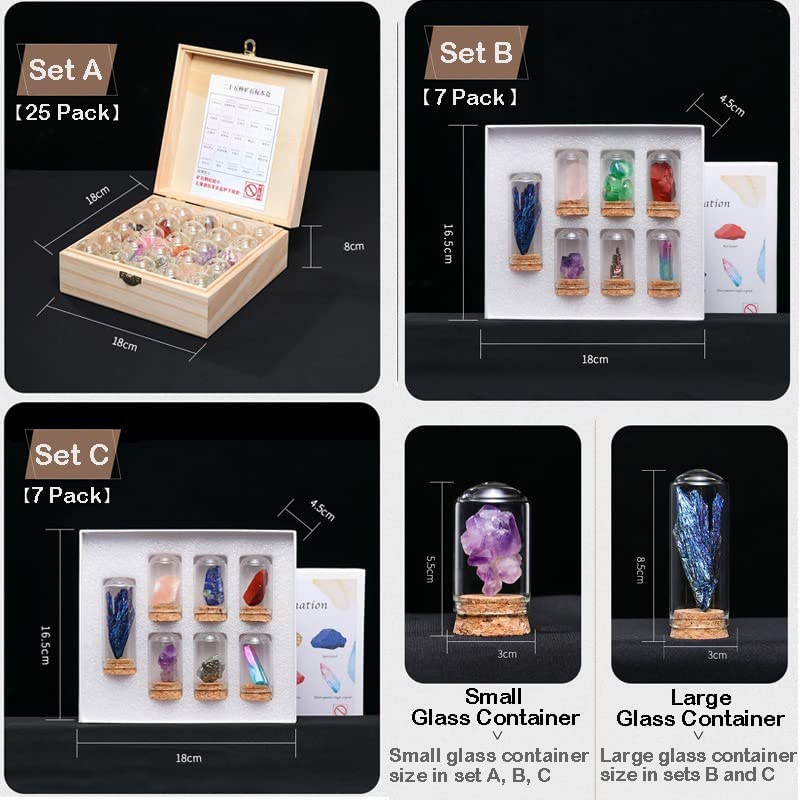 Product Details:
100% high quality
Material: natural fluorite rough stone
Glass container dimensions: approx. 5.5cm high, approx. 3cm in diameter.
Weight: Approx. 20-30g/0.06lb
Package includes: 1 * Crystal Mineral Specimen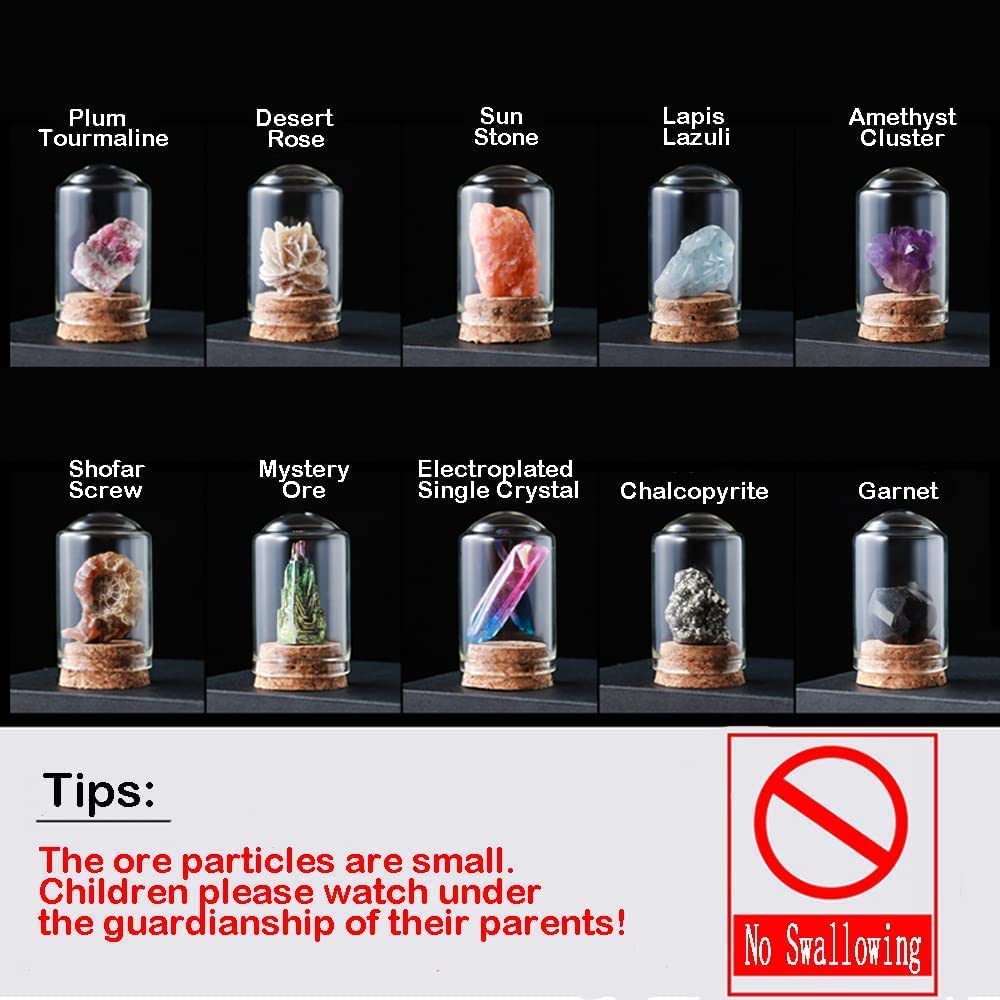 🔮[Maintenance method] - After getting the crystal, drop a little water or essential oil on the crystal. This can make the crystal look more translucent and beautiful. The above method can be used to maintain the crystal from time to time in the future.
🔮【As an Aromatherapy】-You can remove the glass cover, put the crystal on the cork, and then drip the aromatherapy oil on the crystal. Think of it as a container for volatile essential oils. It is not only a beautiful decoration but also a wonderful fragrance.
🔮[Reminder] - Because each crystal is unique, the shape, size and texture cannot be exactly the same. So the crystals you get are all different and will not be exactly the same as the pictures on the product description. Please be aware of this when purchasing.
Welcome to the store to view more crystal series, if you have any questions or customization needs, please contact us!