Whether you're looking to make a bold fashion statement or simply admire the beauty of nature, this crystal tiara is a must-have addition to any jewelry collection.
With its intricate design and strong symbolism, it is the perfect accessory for those looking to impress.
The Valkyrie Crown has eight black onyx points, bronze swords, and gold wings, all wire wrapped around a black headband. The Angelus tiara features fourteen halo quartz points, a central crystal and filigree wings all wrapped around a silver headband. Perfect for special occasions such as themed weddings, festivals, cosplay or just to unleash your inner goddess!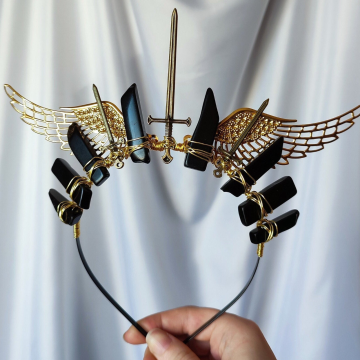 ☆ Stone: polished black agate/angel halo quartz, each about 3cm-5cm.
☆ Headband: Black/Silver Metal (One Size Fits All).
☆ Wire: gold-plated/silver-plated.
☆ Decoration: 5.5cm/8.5cm bronze color sword and gold filigree angel wings, clear K9 glass crystal and four silver filigree wings
☆ It can be fixed with hair clips if necessary.
🤍 Spiritual attributes:
• Brings peace and tranquility.
• Connect with angels.

***** All crystals are natural and vary in size, shape, color, and more. These crystals are polished, but may be rough or jagged in areas with pointed or flat points. Each crown is handcrafted and unique just for you ♡ *****