Everyone needs a dragon! Brave, fierce, naughty, and dare to challenge the world! Oh wait, are you too? Then you should be friends.
Fantastic Dragon Family - Not all dragons are evil. This cute fantasy dragon is man's friend. They love peace like humans. Reading, music, painting, and even caring for their children.
The blue dragon is waiting for his girl with a bouquet of flowers; the pink dragon looks at her baby with loving eyes; the rock dragon looks into the distance with headphones; the research dragon is concentrating on his book; the standing dragon looks up at the sky , imagine flying in the sky; the sleeping dragon with the hat hugs a little bear and gradually falls asleep!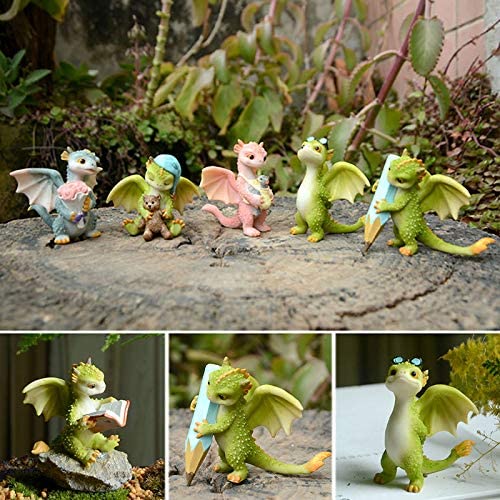 These little dragon are so cute, you can't help laughing, right? Why don't you pass that smile on to others! This collectible figurine is a great way to tell people you appreciate them!
This fantastic pixie is perfect for your fairy garden, flower arrangement, desk, shelf or anywhere you need to add a little whimsy!
You can place it on your table top as a decoration or in the garden to accompany your plants. Different kinds of dragons are suitable for any place, such as desk, office, home, garden, living room, windowsill, deck, porch, patio, garden and shelf, etc., to give you the feeling of natural environment;
Every little detail has been carefully drawn by hand. It's neat! Package includes: 1 x Cute Dragon Statue. A great housewarming gift for gardening enthusiasts or moms, dads, daughters, grandparents, this dragon is a unique collection option that you can also try as a gift to bring joy to others.