The crystal tree is a plausible symbol of luck, wealth and prosperity. Combine it with your favorite crystal owl to add energy to your life and create a calm and positive vibe.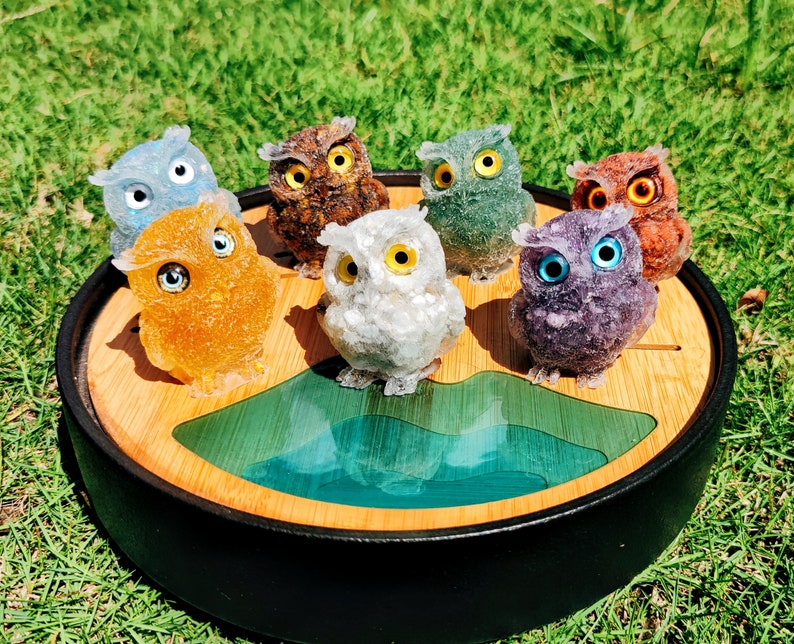 Handcrafted Crystal Feng Shui Tree: Clear Quartz, Amethyst, Lapis Lazuli, Green Aventurine, Citrine, Red Jasper, Obsidian and more
One tree for many shapes: High-quality copper wire is flexible enough to bend and shape as you like, so the tree's foliage can be trimmed to match the picture or your aesthetic. Suitable to display anywhere in your home or office living room window, garden to protect your peace and harmony.
Unique Handmade Crystal Tree for Indoors or Outdoors: Hand-wound long copper wire trunk and branches, tumbled gravel and natural agate flakes with irregular sides and well polished sides. Measuring approximately 5.9 inches (15cm) tall and weighing approximately 4.2 ounces (120g), each tree is unique as it is handcrafted.
Handmade Process
Step 1.

Pull out the copper wire and bundle them together to make the branches of the tree

Step 2.

Slide the charming gem into the center of one copper wire, and twist it around the gem to make it stable attached to the wire

Step 3.

Continuously adding your gem to the copper wire and twist around each gem to fill out the individual wires on the tree. Secure the end of the wire around the final gem on the branch to prevent it from falling off

Step 4.

Use the plier to add the twist character to your branches creating the general shape of the tree
【A GREAT SPIRITUAL GIFT】If you want to motivate or inspire someone, then this crystal tree might be the best for you. You can gift this crystal tree and owl combination to your friends and loved ones on any occasion. It is a great spiritual gift, crystal gift, spiritual gift for women, good luck gift, office gift, positive energy gift and more. Their subtle vibrations affect the physical, mental and spiritual levels of being.
💐100% SATISFACTION GUARANTEE: When it comes to our customer satisfaction, there is no room for compromise. If for any reason you are not completely satisfied with your purchase, our customer service department is here to help.