Each one of our products is carefully handcrafted with genuine healing stones locally and ethically sourced by small artisans in Brazil. The layers of metal and eco-resin with carefully selected crystals aid in a variety of physical, emotional, and spiritual imbalances resulting from our current environment💕
Limitless blessings exist all around us; we only need to open our hearts and minds to receive their abundance. Attract only the things which represent genuine soul food with our Feng Shui tree, blossoming with precious Red Tourmaline leaves. These mighty stones will help to enhance and nurture all the social relationships in your life and it also helps to get your thoughts in order. The delicate beauty of this Tree of Life constantly reminds you that you must find unconditional self-love before you can love anyone else.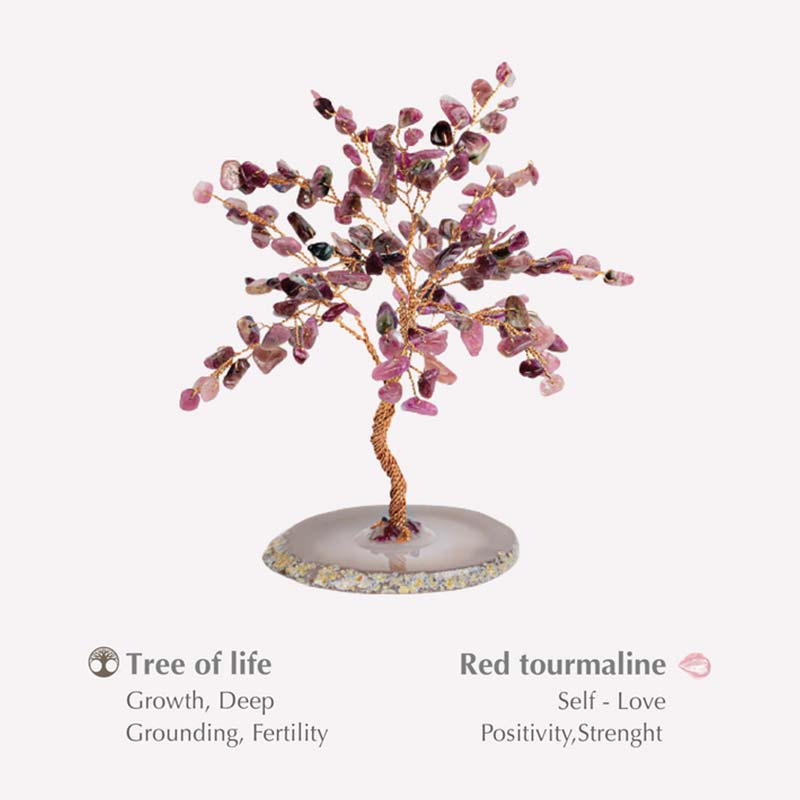 Specifications
Tree of Life Symbol: growth, deep grounding, fertility.
Red Tourmaline Leaves: self-love, positivity, strength.
Agate Stone Base: stability, grounding, balance.
Size: Small - 6, Medium- 8, Large - 10 Inches Tall.
Hand-wrapped Copper Wire.
Placement suggestion: Keep a Red Tourmaline Feng Shui Tree in the southwest side of the house or living room. It can bring the strength to overcome difficulties, help to balance the two poles and accept the contradiction.
Since it is all about natural material when it comes to the tree base, each and every one is unique in terms of shape, color and size.