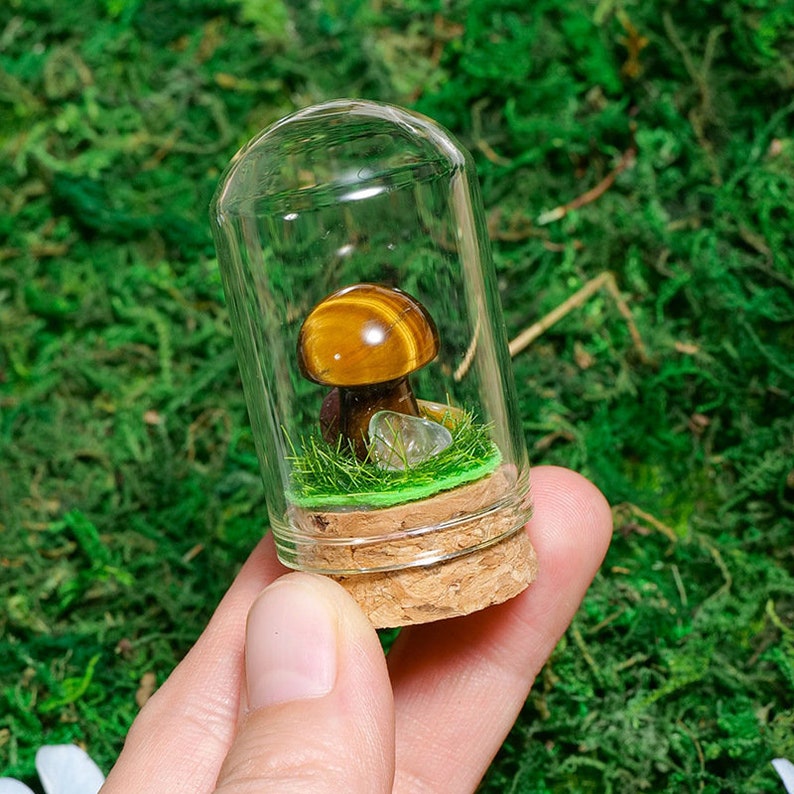 Introducing :
the Natural Crystal Mushroom Ore Specimen, a unique and fascinating gift that is perfect for children who love science or for anyone who enjoys collecting natural specimens. This item can be used as a holiday gift, home decoration, or even as an ornament.
This crystal specimen is made from a type of mushroom ore that has undergone a natural process of crystallization, resulting in a stunning and intricate pattern of crystals that resemble the shape of a mushroom. The specimen is approximately 2 inches in size, making it easy to handle and examine under a microscope.
One of the most exciting things about this specimen is the opportunity it presents for children to explore the natural world up close. With a microscope, they can see the intricate details of the crystals and learn about their formation and properties. This makes it a perfect gift for young scientists or for parents who want to encourage their children's curiosity about the world around them.
In addition to its scientific value, this crystal mushroom ore specimen also makes a beautiful home decoration or ornament. Its unique shape and shimmering crystal pattern make it a stunning piece to display in any room of the house. Whether used as a paperweight on a desk, as part of a centerpiece on a dining table, or simply as a decorative accent, this crystal specimen is sure to catch the eye of anyone who sees it.
The Natural Crystal Mushroom Ore Specimen comes with a small magnifying glass to make it easier to examine the crystals. It also includes a small display stand, so it can be proudly displayed on a shelf or table. The specimen is securely packaged to ensure safe delivery, and it comes with a small information card detailing its properties and how it was formed.
Overall, the Natural Crystal Mushroom Ore Specimen is a wonderful gift for anyone who appreciates the natural world and enjoys learning about science. Its beauty and uniqueness make it a captivating item to display in any home or office, and its scientific value provides an educational opportunity for children and adults alike.