Introducing the Moonstone Luna Moth Necklace, a mesmerizing piece of jewelry inspired by the beauty of the night sky. This stunning necklace is designed to evoke feelings of calm and tranquility, making it the perfect accessory for any modern woman.
Luna moths signify new beginnings as they represent a continuing quest for truth and knowledge, the gift of intuition, psychic perception and heightened awareness. Things that are associated with "seeing the light".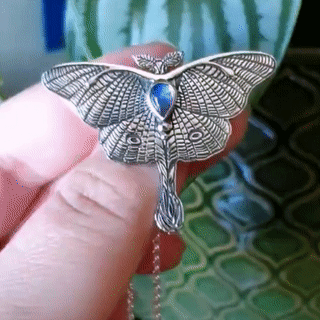 Crafted with genuine moonstone stones, known for their calming and balancing properties, the Moonstone Yue'e Necklace is designed to soothe the mind and enhance your well-being. The intricate pendant, shaped like a Luna Moth, glows with an ethereal light, adding a touch of magic to any outfit.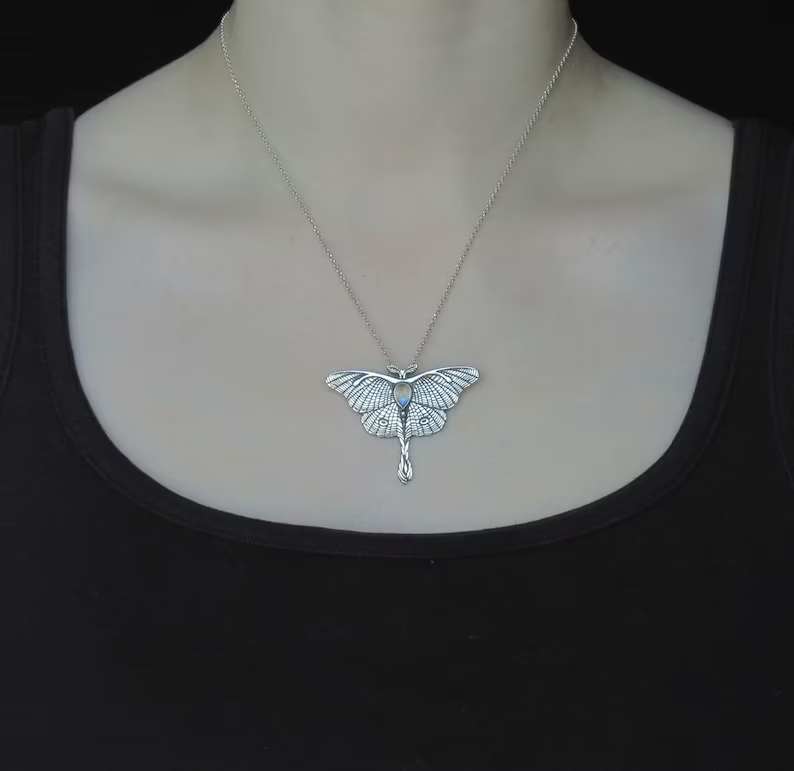 The delicate chain of the Moonstone Yue'e Necklace is made from high-quality silver and plated with a shimmering finish, creating a beautiful contrast against the soft, glowing moonstone. Whether you're looking to elevate your everyday style, or you need a special accessory for a special occasion, this necklace is the perfect choice.
Handmade item
Chain is 45cm long + 5 cm adjustment (18 inches + 2 inches). Full length with adjustment is 20".
Materials: Silver, Stone
Gemstone: Moonstone
So why settle for just any piece of jewelry, when you can have one that not only looks beautiful but also helps to enhance your well-being? Order your Moonstone Luna Moth Necklace today and experience the beauty of the night sky in a truly unique and stunning design.