At first, you may not notice many details. But once you take a deeper glimpse into the splendor of the natural gemstone, you'll discover the magic! The magic of the universe and the magic within you.
Stunningly beautiful natural crystal cluster has magical powers to bring good luck, strength, happiness, wealth.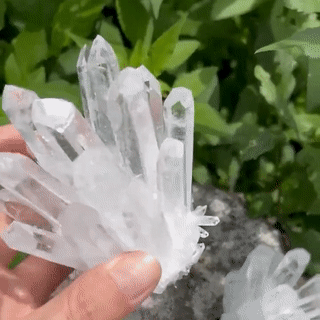 All Chakras
Affirmations
Correspondence

Assist with communication
Acts as a deep soul cleanser
It energizes and activates your chakras
Helps you to create a spiritual connection
Enhances personal awareness and growth
Aids in concentration and unlocks memory
Assist in helping you reach transcendental states during meditation
It will amplify your energy, thought, and the effect of other crystals

I am a radiant being filled with all frequencies of light
My mind, body, and soul are energized
I am supported by the universe to create what i truly desire
I am crystal clear about the thoughts and feelings i want to magnify

Energy: Receptive
Planets: Sun
Element: All
Zodiacs: All
Idea: Each crystal is unique and comes from the earth, they may have dents, fissures, fissures, bumps, etc. They may also vary in color or pattern. These unique markings contribute to the natural beauty of the stone. Size, shape, color may vary from lot to lot. The pictures are usually larger than the actual product, please refer to the product size and weight provided.
Welcome to the store to view more crystal series, if you need to customize, please contact us.