Amethyst
♥ Increases nobility ♥ Spiritual awareness ♥ Inner peace and healing ♥ Healing of body, mind & soul ♥ Positive transformation ♥ Meditation ♥ Balance ♥ Relieves stress ♥ Communication.
A gorgeous purple gemstone, the amethyst is said to bring strength, courage, and peace. These benefits can help promote healing. It's a soothing stone with peaceful properties, with a quiet energy that should also help release creativity. Since the stone has such tranquil qualities, it's a great gift for anyone suffering from anxiety, mood disorders, and addictions. It is said to promote spiritual and physical health.
Obsidian
♥ Purification ♥ Transformation ♥ Fulfilment ♥ Metamorphoses ♥ Manifestation ♥ Practicality.
Obsidian is considered to be an earth-stone that activates the root chakra and grounds you in your connection to the Earth. It is said to clear the aura of negative energy.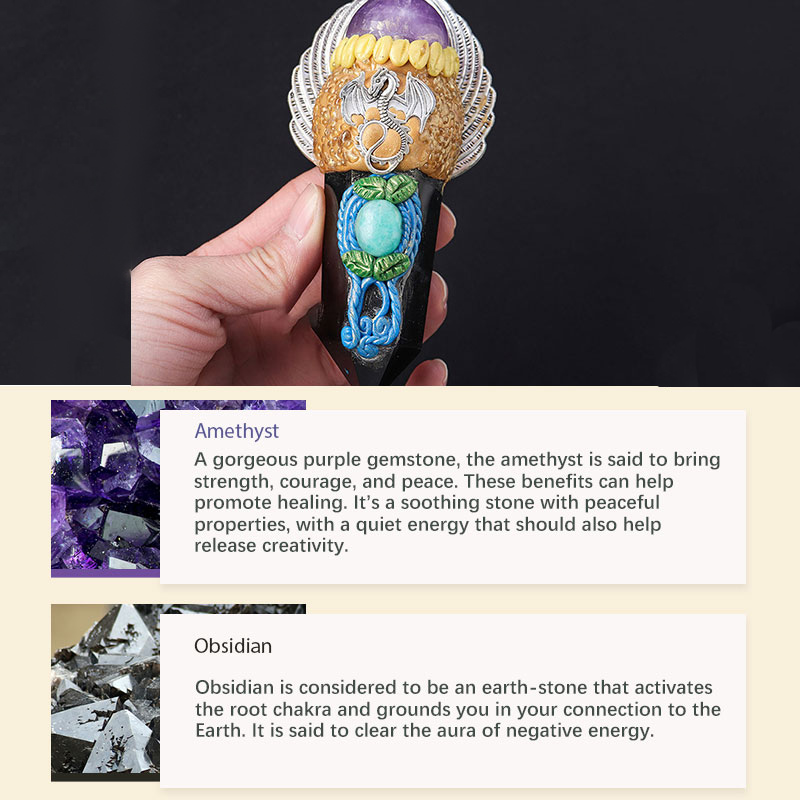 Citrine
♥ Happiness ♥ Prosperity ♥ Generosity ♥ Creativity ♥ Pleasure ♥ Protection ♥ Strength ♥ Alignment ♥ Confidence ♥ Stability ♥ Moderation ♥ Energy ♥ Comfort ♥ Success ♥ Truth ♥ Goodness ♥ Warmth ♥ Digestion ♥ Assimilation ♥ Enjoyment of life ♥ Spiritual growth.
Citrine energises every level of life. It cleanses the chakras and opens the intuition. Citrine is said to attract wealth, prosperity and success. It imparts joy, wonder, delight and enthusiasm. Raises self-esteem and self-confidence. Stimulates the brain, strengthening the intellect. Citrine promotes motivation, activates creativity and encourages self-expression. Enhances concentration and revitalises the mind. It is believed to release negative traits, depression, fears and phobias. Emotionally balancing.
Rose Quartz
♥ Unconditional love ♥ Self-love ♥ Mother love ♥ Caring ♥ Kindness ♥ Friendship ♥ Romantic love ♥ Platonic love.
A popular gemstone, the pink-hued rose quartz is said to help heal heartaches. Closely associated with love, the rose quartz seems to have a soothing, gentle energy that can calm an agitated wearer. A gift of a rose quartz can be a wonderful message to someone going though a divorce, breakup, family estrangement, or any struggle with loneliness and lack of inner peace.