Last year wasn't only a period of self-isolating, social distancing, and seeing less of our loved ones, it also was a year full of frustration, failure and depression. But now it's 2022, we hope and believe that this year will be better than the last. It should a year full of hope and energy. Therefore we carry out this Necklace to help those people who suffer from pain, stress and failure. We hope that the things full of untouchable and mysterious power we send to you will change your luck and your life. You have the power to choose how you live in any situation. And believe me, choose to be happier, then life will be better.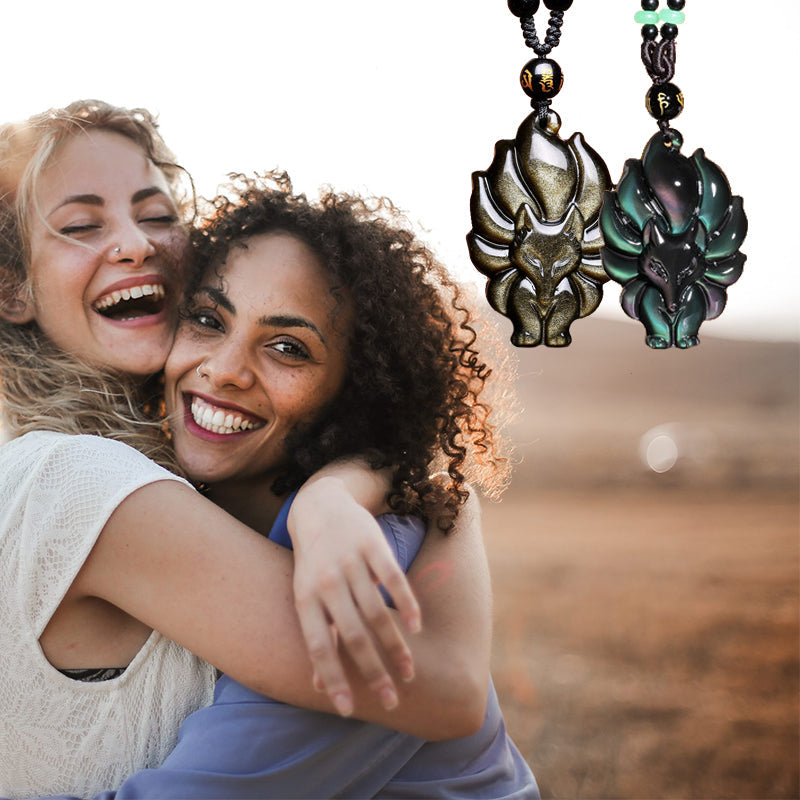 -MATERIAL & PRODUCTION-
* Color: Rainbow, Golden, Black Obsidian and Fluorite
* Material: Crystals
* Package: 1 x Obsidian Nine-tail Necklace
* Pendant Size: 1.25 ×1.75 inches
* The color and the texture will have slightly difference than the picture due to the necklace is made of 100% natural stones.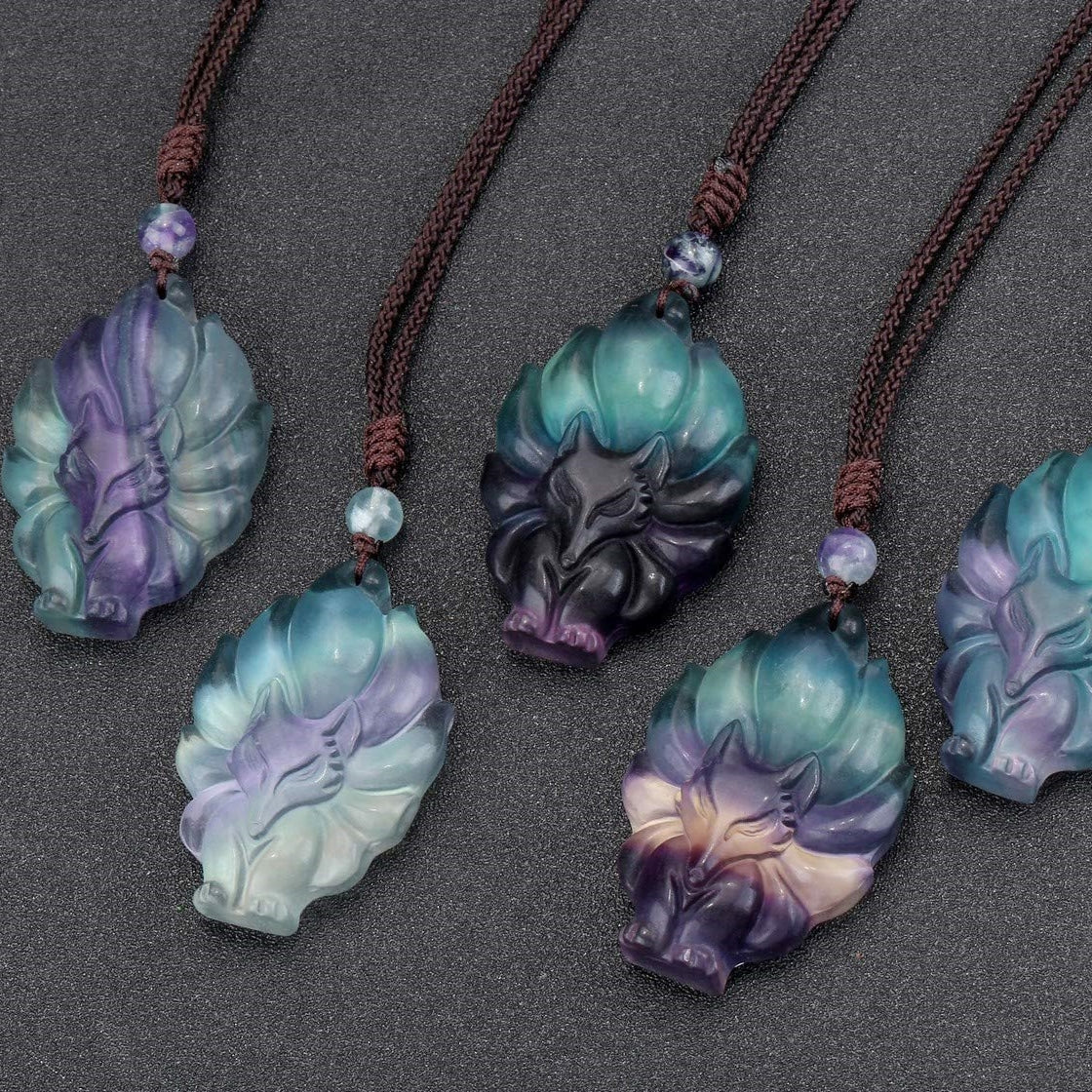 -Product Description
This Infidelity Protection Amulet carved from Rainbow & Golden Obsidian crystal is an amulet that attracts & maintains love, deters third party from seducing and snatching your spouse away.
9-tailed Fox, also called Kitsune, according to Chinese and Japanese tales and legends, is a fox-spirit that has mastered the magic of shape-shifting among others. They are also depicted as a beautiful women, and in some folklores, are depicted as faithful friends, lovers or wives. It is widely believed to be a strong amulet to attract love and marriage luck, besides being an amulet to protect from third party interference. It is also said to enhance one's attractiveness when worn for a period of time. Singles looking for a life partner or soulmate should carry or wear the Nine-tail Fox amulet.
Obsidian is a stone that does wonders forimproving self-image and enhancing self-esteem. For those with confidence issues, such as shame or shyness, Obsidian will induce personal development and allow you to overcome any obstacles in your way. Obsidian will also protect you from any negative forces, psychic attacks, or bad intentions. People who go traveling should carry this stone.
Fluorite often emits blue-green fluorescence under ultraviolet light, also known as rainbow gemstones. Fluorite can help the mind stay awake and stimulate the right brain to make people think. Fluorite corresponds to the eyebrows wheel in 7 chakra, which has a miraculous effect on headaches that can help decrease emotional distress and can also be used to alert people while driving.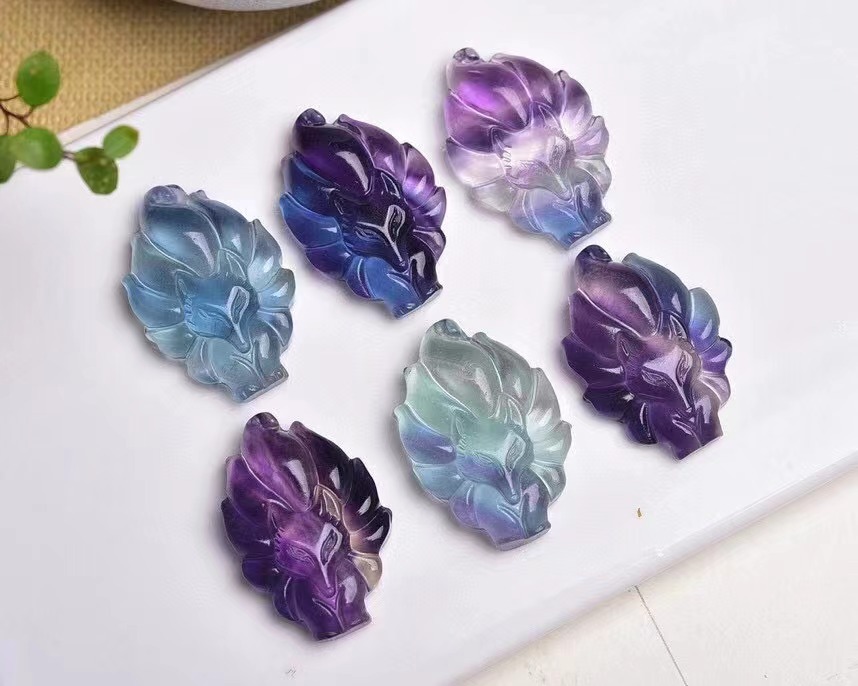 -About hallofknights-
We understand that maybe you are always looking for something to make you feel inner peace, health, wealth and safety. Here we provide you with all the Feng Shui decors for you to attract wealth and good luck by collection all mascot items in the eastern culture. We wish you the best and believe all the good things will come to you.
-SHIPPING, RETURNS & SERVICE-
We can ship to over 200 countries around the world. Processing Time : 1-5 Working Days. Estimated Arrival : 7-20 Working Days.We have a 30-day return policy.