Gorgeous Hand Carved Rose quartz Pocket Angel, Angels have Reiki healing benefits and properties that aid well-being and can be combined with healing stones jewelry.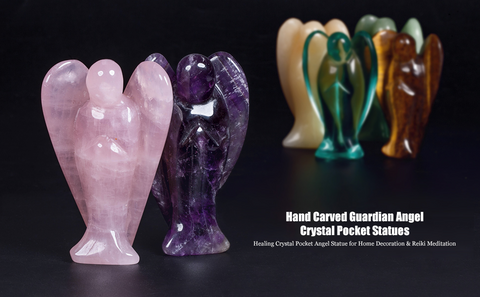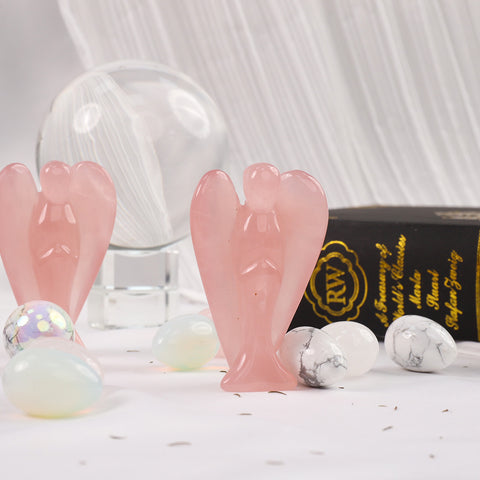 The deeper magic of this Rose Quartz Angel of Love
The ancient Greeks described Agape as selfless, unconditional, and spiritual love – it's the kind of love that Source offers to us. Rose quartz is considered the universal stone of peace and unconditional love – love for self, others, and all of creation. It also magnifies love and represents bonds that transcend time and space. Rose quartz will support your intentions to give and receive true love and deep affection. In the shape of an angel, rose quartz takes on a higher and deeper meaning. Angels are our protectors and messengers. They watch over us, offering guidance on the path to our highest good.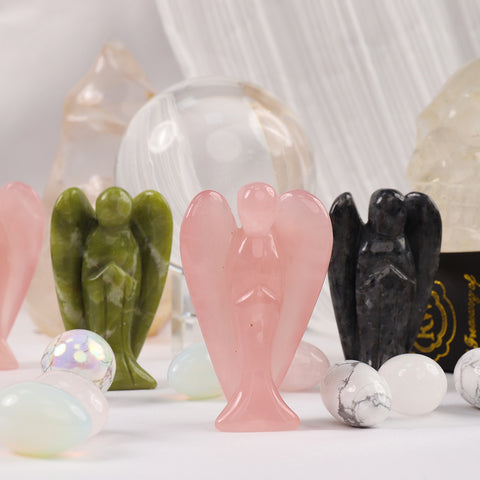 ➢[gemstone effect ]: Hand-carved crystal pocket angel symbolize Guardian god, , angels have Reiki healing benefits and properties that aid well-being and can be combined with healing stones jewelry, It is believed to support the stabilizing of mood swings, purification of the blood, and kidneys, keep it in places where peace and serenity are needed including in your pocket

➢[Hand-carved unique]: Due to the natural characteristics of the stone. every angel stone has its own color and texture You will receive one similar one as the pictures show, each one is unique. And we guarantee that everything is the same quality.

➢[Best Gift]: Bless yourselves and your loved ones with the spiritual healing and angelic energy infused in each of our pocket angels.

➢[Good luck ] : Size for Angel statues approximately 2"(50x30x18mm) .Guardian angel makes great for beginners or practitioners wanting to balance their Chakras, collect crystals, or just set up a beautiful relaxing space!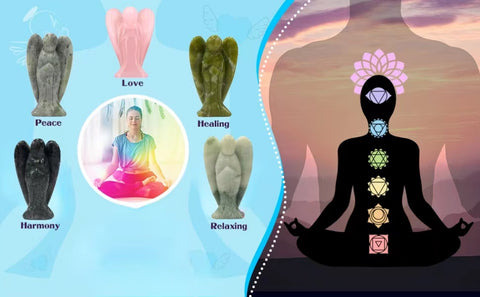 Carry Your Own Guardian Angel in Your Pocket To Watch Over You. Rose quartz is often called the Love Stone. It is the stone of unconditional love: self-love, family, platonic and romantic. Rose quartz has a strong energy that can enhance love and opens the heart chakra. Rose quartz is a very happy stone that is calming and reduces stress. Rose quartz is also used to raise self-esteem and a strong sense of self-worth as well as balance emotions and bring peace and calm.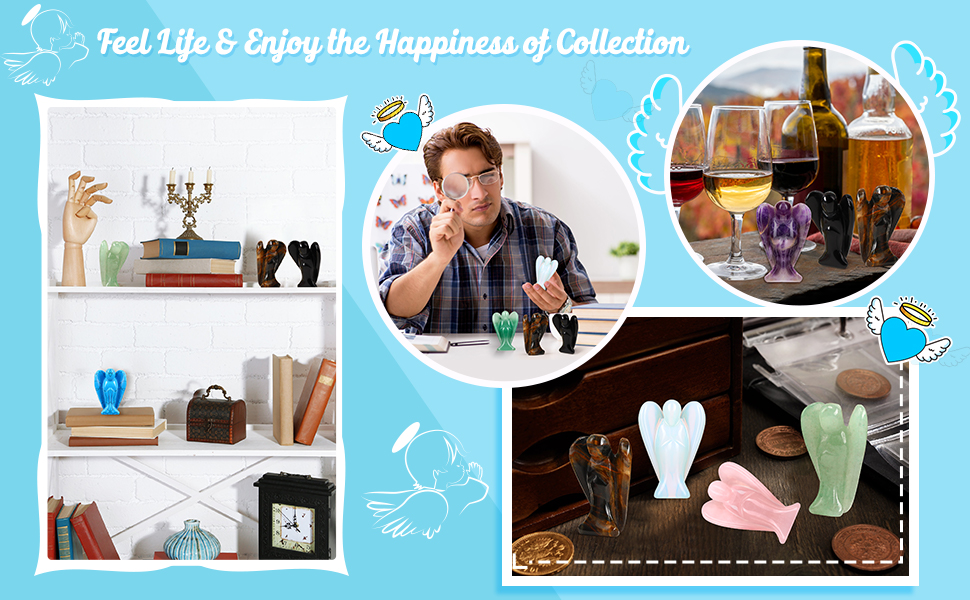 Natural Gemstone, Angel Size: approx 50mm x 32mm x 18mm, 3 inches tall.
Package Content:1x Angel Figurine
It's hand carved figurine, pls allow varies in size, shape, marking, and color. Each one is unique, you will receive a similar one as the pictures shown. The other photo shows possible variations.

Place this Rose Quartz Angel of Love on your altar or nightstand, inviting in the presence of the angels. Hold it during meditation and feel the love and peace available to you. However you choose to work with yours, may it serve you well.
❤️We pride ourselves on providing high-quality crystal products at an affordable price. We have been focusing on crystal collections for many years, and we are also working hard to deliver the positive energy and benefits of crystals to everyone who loves crystals. Let us embrace a beautiful and happy life together!Thank you for supporting our business!❤️

Offering the greatest customer service is what we strive to do daily. We will go above and beyond to ensure you have a great experience with our shop! If you have any concerns, please do not hesitate to contact us and we will do whatever we can to help. Thank you!