Introducing our newest creation - a new collection of celestial-inspired suncatchers, get lost in daydreams of rainbow magic ☀🌈
Bath your home (+ yourself!) in a rainbow of gorgeousness.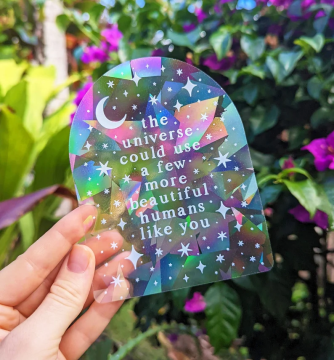 This stunning suncatcher sticker features a beautiful rainbow design that captures the essence of the color spectrum that illuminates our world. The celestial inspired theme will add a touch of magic and mystery to any of your spaces!
hand-made
Width: 5 inches
Height: 4 inches
Dimensions may vary for different styles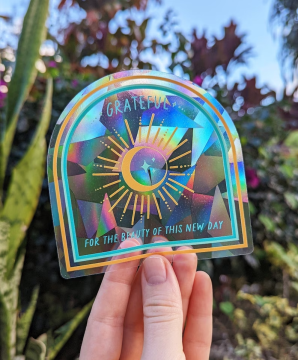 "The universe could use a few more beautiful humans like you"
"Let Your Wild Dreams Grow"
"Grateful for the beauty of this new day"
"Do your best & let go of all the rest"
Made of high quality materials, this suncatcher decal is durable and weatherproof so it will last you a long time. It's easy to apply and remove, and it's the perfect addition to your window, laptop, water bottle, or anywhere you want to add a touch of celestial beauty and rainbows.
This sweet celestial window shade decal makes a wonderful gift for friends and loved ones.
Order today and let the magic begin!