This 8-inch tall tree sits upon a Fluorite quartz base. The Feng Shui Copper Money Tree is made of hand wrapped copper wire with Aquamarine stone leaves. This Tree of Life is also known as Feng Shui Tree and helps with balancing areas of your life and home. The beautiful Aquamarine stones will bring beauty and light into your life. Included with your tree is a Manifest Your Dreams card and envelope. 
Tree of Life Symbol: growth, deep grounding, fertility
Aquamarine Leaves: ♥ Wisdom ♥ Sincerity ♥ Calm ♥ Peace
Aquamarine Crystal experts believe that the Aquamarine enables us to gain the wisdom deep in our hearts. This in turn allows us to stay true to our deepest values, express our feelings openly and communicate with others from the heart.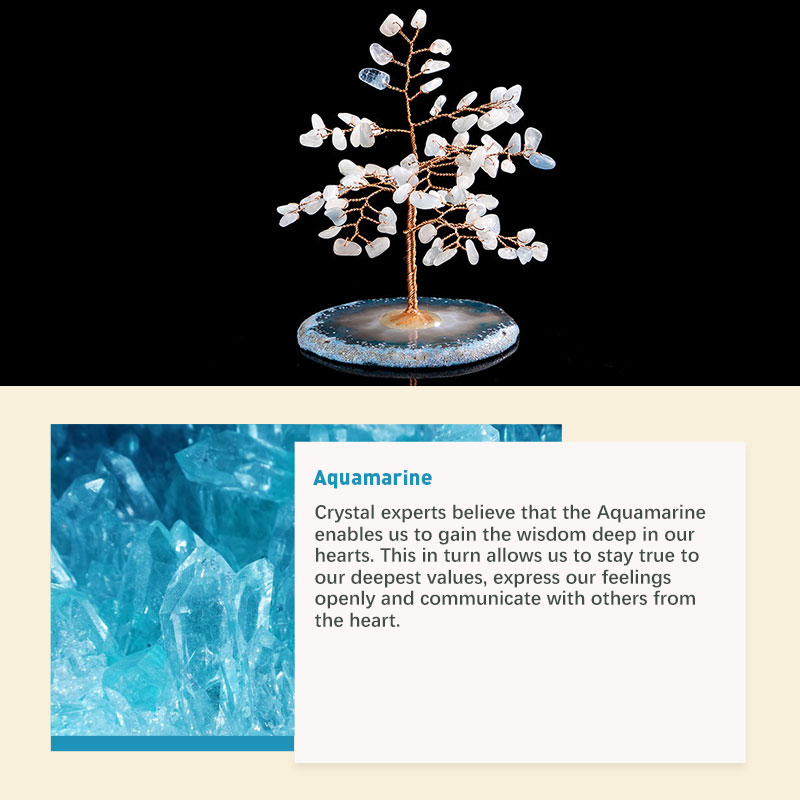 Specifications
Size: 10cm(L)*8cm(W)*11(H) 
Hand-wrapped Copper Wire
Agate Base: balance, grounding, harmony, stability
The Agate Base may be slightly different