Our raw crystal string lighting creates the perfect ambience and energy in your space. Add a sprinkle of magic to any home or workspace.

Crystal Meanings:
ROSE QUARTZ -> A crystal of Love, inviting a deep sense of compassion and care in this world. The perfect stone for those who carve more love in their lives.
CLEAR QUARTZ -> This icy bright and luminous stone gets to work on the soul, kicking out the energy that is dragging you down and infusing you with a new sense of purpose and play.
AMETHYST -> Renowned for bringing a sense of calm and clarity, those who keep this crystal close will feel comforted, grounded and soothed in a truely uplifting way.
FLUORITE -> If you ever feel dull of heart and soul, this stone will quickly swoop in and bring a dose of original thinking. For those looking to shake off addictive behaviours and to find their true purpose in life, the twinkling delight of Green Fluorite is here to fine-tune your heart.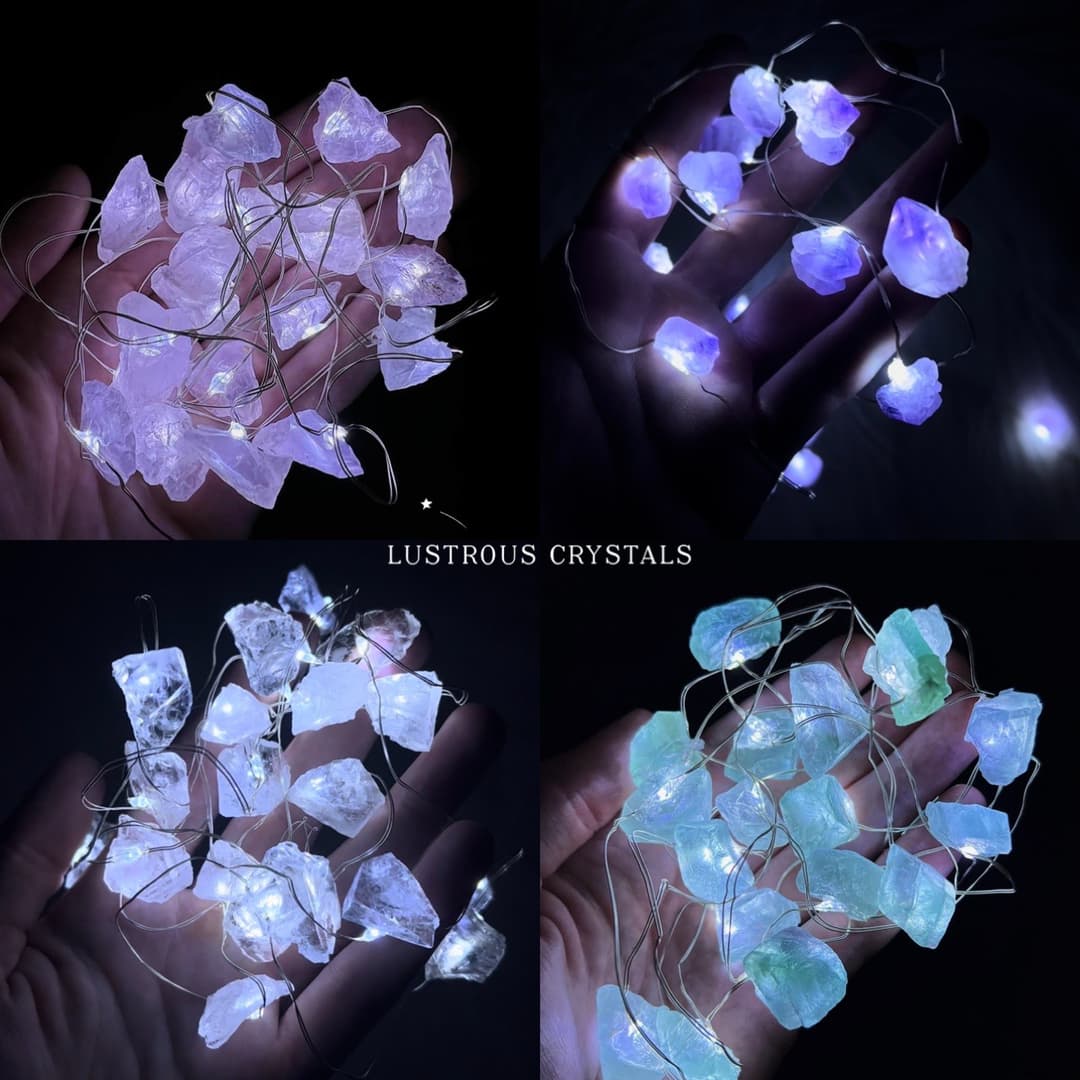 Perfect to Decorate your house
The string lights can be decorated anywhere in your house. Bringing mysterious and pleasant atmosphere to your life. It could be a great additional touch to the details of whatever you are prepared for the special day.
The string lights with waterproof wire and battery box can be safely used in drizzle. Elegant outlook makes the decorative light a perfect chioce for party, wedding, valentine's day, christmas bedroom decor and DIY lover.
Perfect Gift from Nature World

Natural and Untreated Directly from the Amethyst Mine

Every stone is unique and sizes, shapes, colors and patterns may vary. The LED bulbs chips imbedded light stones up from inside and make them magic crystals from fairy tale.

Varies in Size and Colors

All stones are naturally generated and picked by hand, We try to keep its original wild appearance as much as we can. Size of each stone varies from 0.75-1.5 inch, Approximate weight: 8-12 g. Color changes between: Pink – Purple.

Never Go Hot, Safe for Children and Pet

This Amethyst LED string light is powered by low voltage and would not overheat ever after prolonged usage. The wire is barely noticeable and Could be easily hid. The stones are chosen carefully, washed and embellished before putting together.
Bedroom Decor

Powered by low voltage and made of heat-resistant material, the fairy light can be used for bedroom decoration and beautifully dress up your life with its unique outlook.

Photo Ornaments

The string lights is flexible and durable, perfect for photo decoration. Led light, mounted along the string, provides an elegant atmosphere with wonderful light.

Peaceful Time

The fluorite lights creat a warm and romantic atmosphere, give you strength, inspiration, and a sense of true peace, which will be help for a good sleep time and a better life.
Crystal Light Features:
Length: 2M
Power: Battery Operated
Crystal Size: Approx 2cm (20 Pcs)
【Reliable After-care Service】Please note that each sea glass of this stone light will show unique and vary in sizes, shapes, colors, and patterns by real stones for natrual decor. If you have any questions about the purchase items, please feel free to contact us