Each one of our products is carefully handcrafted with genuine healing stones locally and ethically sourced by small artisans in Brazil. The layers of metal and eco-resin with carefully selected crystals aid in a variety of physical, emotional, and spiritual imbalances resulting from our current environment💕
We are what we think. All that we are arises with our thoughts and they have the power to transform the world. If you feel like you're placed in an unstable chapter of your life, our Thought Stabilizer Feng Shui Hematite Geode Tree is here to help you stabilize and center the balance of your spirit. Once you are rooted in a balanced position, this mighty tree of life will accelerate your personal growth.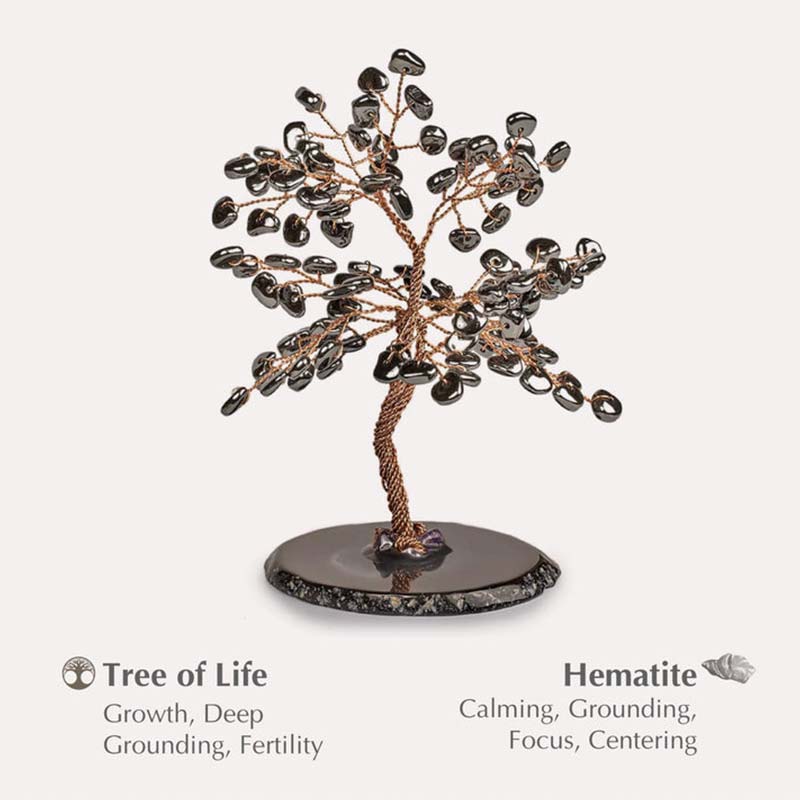 Specifications
Tree of Life Symbol: growth, deep grounding, fertility.
Hematite Leaves: calming, grounding, focus, centering.
Size: Small - 6, Medium- 8, Large - 10 Inches Tall.
Hand-wrapped Copper Wire.
Agate Base: balance, grounding, harmony, stability.
Placement suggestion: Keep a Hematite Feng Shui Tree in the north side of the house or study room. It promotes inspiration, success and good luck in business affairs.
Since it is all about natural material when it comes to the tree base, each and every one is unique in terms of shape, color and size.


Caring For Your Gemstone Jewelry
Don't crash hard objects or fall off & Keep it away from chemicals,cosmetics,wine,acid and alkali.
Keep it from high temperature and direct sunlight, which may cause damage to gemstones.