Women's Leather Crossbody Backpack with Wings.

- Handmade.
-Each "feather" is hand-cut in a different shape, resembling a lotus petal.
- Made of thick genuine leather, holds its shape well.
- The color of the body is black, the color of the wings is purple, metallic purple.
- Stylish and practical, it can hold daily necessities, mobile phones, umbrellas, books, cosmetics, etc.
- Inside there are two compartments, one main, the second smaller, and another patch pocket. There is also a zippered pocket on the back of the backpack. The backpack has transformer straps that allow you to carry it both as a backpack and as a shoulder bag.
This backpack is very stylish in design, cool punk and lolita style for work, travel, shopping, parties, halloween and other festivals;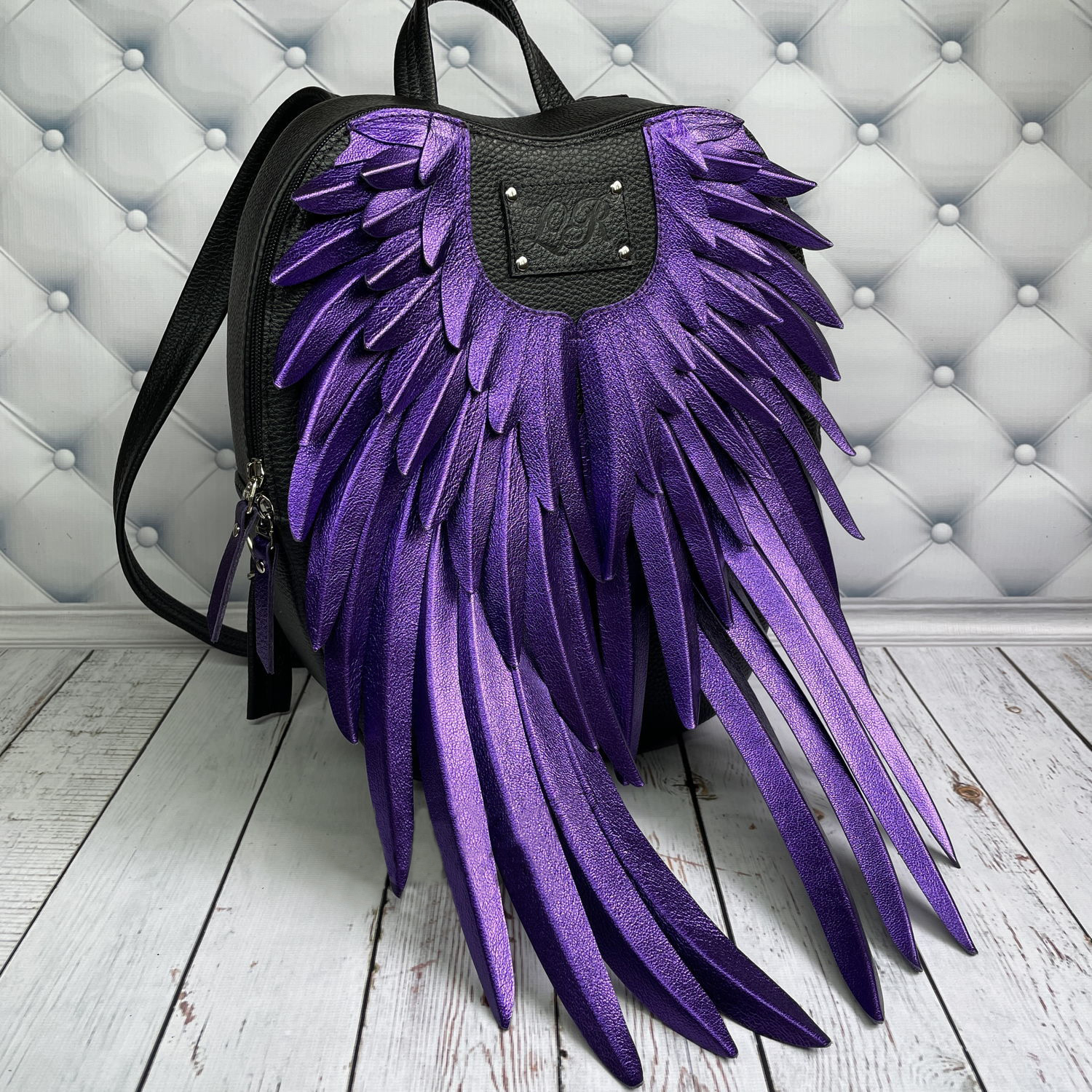 How to keep
There are several basic rules for the care of bags made of genuine leather. To do this, remember the following:
Storage location. Backpack made of leather can not be stored in packages, as it needs to "breathe». To do this, use cotton bags. Better to get a backpack soft paper to keep the shape and not deformed.
cleaning. Before you remove the product in the Cabinet or Cabinet, it is necessary to clean it both inside and outside. Take a soft sponge and apply a special natural skin care product (nourishing cream, impregnation, etc.) on it.). It is strictly forbidden to use rough rags or brushes.
Wet backpack. Try to make sure that your backpack is made of genuine leather is not wet too much. If, nevertheless, such a thing has happened, put the product on a soft towel and stuffed it with newspaper or paper, leave to dry.
Purchase Guarantee: We aim to provide customers with high quality and cost-effective bags; for any order, if there is any quality problem, please feel free to contact us (ask a question or send an email), we will help you solve any problem.